Grill Girl Here! Today we have a special post inspired by one of our customers!
He purchased a Grill Master  grill made by Nexgrill off a craigslist ad for just $30! It needed almost all new parts and so he came to us. He purchased brand new burners, heat plates, and cooking grids and is cooking with an essentially new system! That is an awesome way to save some money and get a great grill on your back porch – not to mention the fact he kept this grill out of a land fill.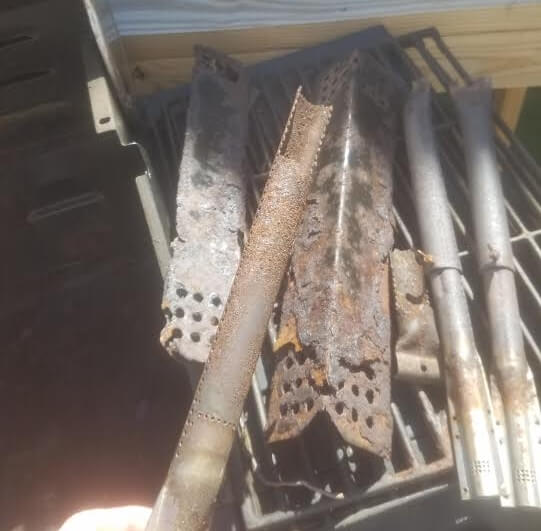 In the pictures above you can see the old parts. There are rusted burners, heat plates and the old cooking grids. One of the burners had a big hole in it, so our customer decided to replace all three at the same time. You can also see that the heat plates were very rusty and the holes were starting to get bigger. These heat plates probably weren't protecting the burners very well. Whenever one of our customers buys a used grill, I always suggest getting a brand new cooking grid. Who wants to cook on top of someone else's old food? Yuck.
Here are the new burners and heat plates. Don't they look so great? Both of these parts are stainless steel and when they heat up for the first time, they will get some discoloration from the heat. Still, the both parts are an exact fit, plus the heat plates are fully stainless instead of the original porcelain coated steel plates that were in the grill. This is an example of how you really can upgrade your grill by purchasing new parts from us!
Here is the final shot of the grill before it was used for the first time. Lookin' Good!
Congratulations on your rebuilt grill! We love helping customers do projects like this. Thanks for sending us the pics!
-GrillGirl