You might have heard of Wolf ovens and stoves, but they are a newer player in the outdoor gas grill industry.
They've been making Wolf outdoor gas grills since the early 2010s but promise that their previous experience and quality is in every inch of their grill line. Prior to 2000, the Wolf name was independently-owned and offered mostly commercial cooking appliance solutions. In 2000, the company Sub-Zero acquired Wolf.
Over the past 2 decades, the Sub-Zero group, previously famous for high-quality refrigerators, expanded the line of Wolf cooking appliances in the kitchen.
In 2013, the company rolled out the newest line of appliances, over 70 in all, and it included – you guessed it – their outdoor cooking appliances: Wolf Outdoor Gas Grills.
Wolf Outdoor Grills line is simple and easy to understand. They offer multiple widths options for your outdoor kitchen or freestanding needs.
Wolf grills are available in 30″, 36″, 42″, and 54″ widths.
The model numbers are simple, the first two letters: OG stand for Outdoor Grill and the numbers are the length. The current models are: OG30, OG36, OG42, and OG54.
Wolf Outdoor Gas grills are available drop-in or freestanding.
You also have the option of natural gas (NG) or liquid propane (LP) in all models. They are 18-gauge stainless steel construction and include an infrared rear rotisserie burner with rotisserie.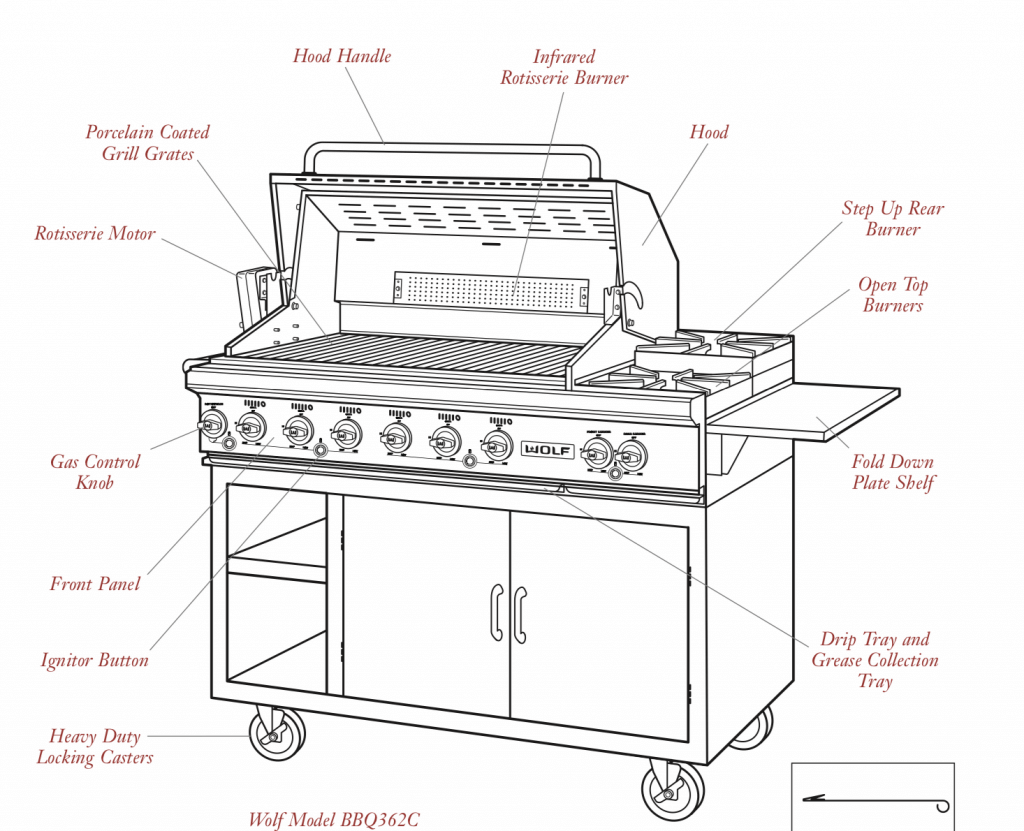 If you're familiar with the brand Twin Eagles, these specifications might look familiar to you. Twin Eagles is the manufacturer for Wolf Brand gas grills.
We love the recipes and videos they out together on their "Reclaim The Kitchen" site.
The catch is the price range.
The smallest model begins at $5000 and the larger models with extra add-ons could go over $10,000. If that's the kind of price range you're looking at, or if you find one of these grills in a home you purchase, it will be well worth proper upkeep.
An outdoor gas grill like this is an investment.
You can still expect to replace the burners, cooking grids, and heat plates every 3-5 years. We've added the brand Wolf to our line of available gas grill parts replacements. We currently carry the burners, heat plates, briquette trays, and flash ignitor. Our parts are high quality stainless steel and modeled exactly from the original parts.
With our large order discount system, we believe you'll find the best price for Wolf gas grill replacement parts on our website.
As always, if you have any questions about your Wolf outdoor gas grill, or any gas grill, give us a call!
We're your gas grill experts, ready at the phone or on email to get your questions answered and get you back to grillin'!
-Grill Girl