If you've heard of lava rocks for gas grills or gas grill rocks, you may be wondering why don't gas grills use lava rock anymore?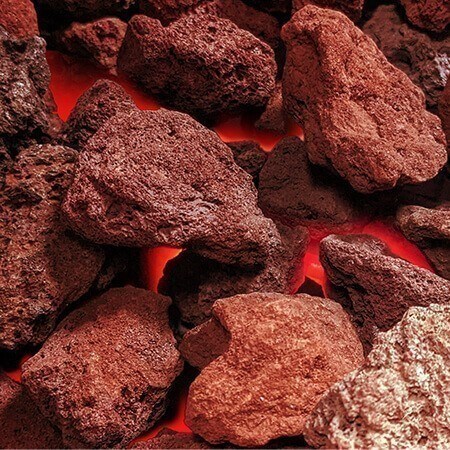 These naturally occurring volcanic rocks are perfect at withstanding and holding large amounts of heat. Because they're porous and made of volcanic material, they also diffuse the heat evenly. Lava rock creates a perfect heat trap for the flame of a gas grill and radiates the heat as infrared energy to cook your food. So why don't gas grills use lava rock anymore?
Why Don't Gas Grills Use Lava Rock Anymore?
In every single gas grill there's a gas burner. The burner produces a flame that produces heat to cook your food. However, heat rises and dissipates in the air too easily to cook your food if it isn't trapped. An uncovered flame results in uneven or inadequate heat for effective cooking.
This is why grill manufacturers cover the burners in gas grills, but before they started using little metal plates, gas grills used to cover the burners with natural lava rock. 
Original gas grills used lava rock with the gas supplying the combustion for heat beneath a layer of lava rocks. The lava rocks themselves sat on grates, called lava rock grates or briquette grates.
The Advantages of Lava Rocks for Gas Grills
Lava rock naturally radiates infrared heat into your food when heated by the flame from your gas grill burner. That radiated heat cooks your food more evenly and leaves it simmering delightfully in the even glow of the lava rock bed.
Lava rock also retains heat on cold and windy days. It stays warmer for longer than metal plates for your gas grill do, instead of losing heat each time the grill cabin is opened.
Grillers who use lava rock lay them out on a metal grate fitted to their grill for lava rock, placing all the largest rocks in neat rows over the burners first and around the outside of the grill, then filling in the spaces between them with an even scattering of the smaller lava rocks for gas grills. See this video for a visual!
The Big Box Retailers Import
Cheap
Mentality
So why don't gas grills use lava rock anymore?
Many years back, the gas grill segment bought into big box retailer mentality of marketing. We saw the cheapest mass-produced assemblies imported from foreign manufacturers. 
Shipping 3 to 5 pieces of bent sheet metal in neatly standardized packaging from an overseas assembly line for the grill saved the grill manufacturers time, hassle, and money over sourcing volcanic lava rock. Not all lava rock is the same. For gas grills you need suitable size and quality for cooking. Additionally, the manufacturers no longer needed to provide the grate where the lava rock sat. They exchanged a higher quality product and experience for a cheaper solution on their end. 
So the metal burner covers won out in the industry, and slick ad copy campaigns touting the superiority of metal plates got the consumer to go along with the change.
But these are lower quality burner covers for gas grills. They're not nearly as nice as lava rock. They don't hold and distribute the heat from your gas burner as well as lava and the rocks look good and are more fun to barbecue over.
So why doesn't your gas grill use lava rock?
You can get lava rock for your grill!
At this time, we have an exact-fit kit for some Weber Models. Check for availability for your grill! We are working to develop more exact fit solutions. In the meantime, browse our selection of grates that can hold up lava rock in your grill.
Questions? Let us know in the comments or send us an email [email protected]