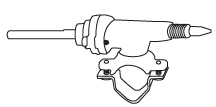 FITS BAKERS & CHEFS, MEMBER'S MARK LIQUID PROPANE (LP) GRILLS

VALVE STEM IS 6MM DIAMETER AND WILL NOT WORK WITH STANDARD (8MM STEM) KNOBS. USE KNOB 03430

INCLUDES #61 ORIFICE WHICH WILL GIVE ABOUT 10,500 BTU WITH LP. SOME BURNERS USE MORE THAN THIS.
THIS VALVE IS ALSO COMPATIBLE WITH ORIFICE 31800 IF YOU REMOVE THE ORIGINAL ORIFICE. THIS WILL EXTEND THE OVERALL LENGTH OF THE VALVE UP TO 1/2"