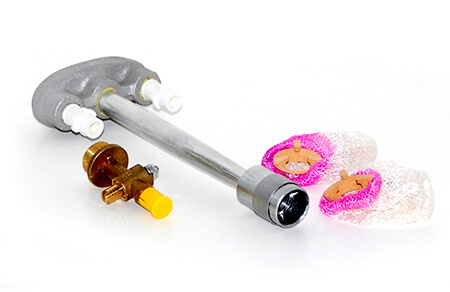 THIS NATURAL GAS LAMP REPAIR KIT INCLUDES:
(1) VALVE
(1) MIXER TUBE
(1) DUAL INVERTED BURNER HEAD WITH CERAMIC TIPS
(2) MANTLES
(1) AIR SHUTTER
DIMENSIONS:
LENGTH OF MIXER TUBE: 7-1/2" TALL
BURNER HEAD: 3-1/2"
INNER DIAMETER OF VALVE: 3/16"
OUTER DIAMETER OF VALVE: 27/64"
NEED HELP?
We would be happy to help you find gas light lamps, torches or parts. Please call our customer service team at (678) 272-2451 or email us.