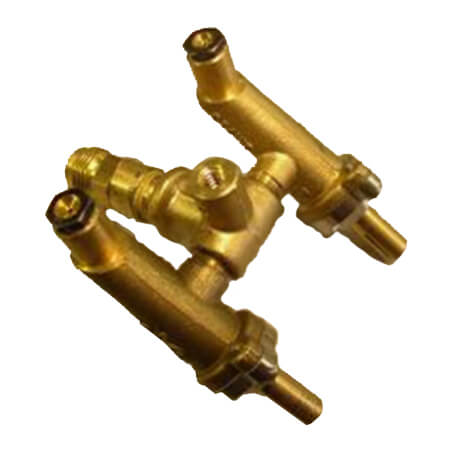 THIS DUAL VALVE FITS:
ARKLA DUAL UP-FRONT CONTROL PROPANE GRILLS REQUIRING 45° ANGLE VALVES
VIEW 'Fits Models' TAB BELOW FOR SPECIFIC MODEL COMPATIBILITY
MAY ALSO FIT OTHER BRANDS AND MODELS NOT LISTED
MORE DETAILS:
2-1/4" BETWEEN ORIFICE CENTERS
MANIFOLD 3/8" FLARE INLET
SPECIFY ORIFICE SIZE:
#55 ORIFICE
#57 ORIFICE
1 YEAR WARRANTY
INSTRUCTIONS FOR REPLACEMENT VALVES
Be sure valve, regulator or part being replaced matches old part. IMPORTANT: Always use a good thread sealant on threads before installing new part (on flare fittings no sealant required). L.P. sealer should be used on all liquid propane fittings. Do not strip thread by over tightening. After parts are installed check for leaks with soapy water on ALL connections with gas pressure on. Re-tighten if bubbles appear – NEVER do this test with an open flame.