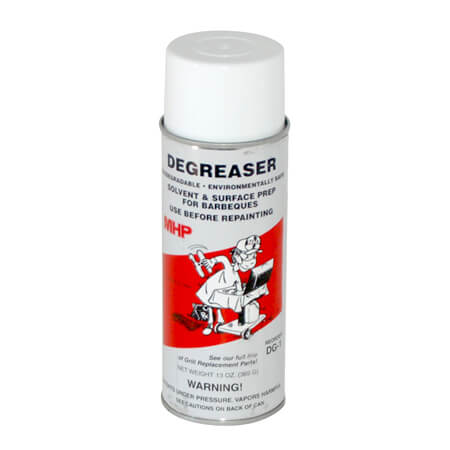 GRILL DEGREASER AEROSOL SPRAY CAN DETAILS:
THIS DEGREASER IS A SOVENT & SURFACE PREP FOR GRILLS.
USED TO CLEAN AND PREPARE YOUR GRILL BEFORE REPAINTING WITH HI-HEAT PAINT | BF1
DISSOLVES BAKED-ON GREASE
RECOMMENDED USE ON BODY OF GRILL ONLY
TOO CONCENTRATED FOR USE ON COOKING SURFACES, MAY DAMAGE OR DISCOLOR.
NOT TO BE USED ON STAINLESS STEEL SURFACES
12 OZ. SPRAY CAN
USE WITH:
NOTE:
Use this solvent & surface prep before you repaint your grill to remove any dirt or grease that may prevent the new paint from adhering to the grill.
This product is used to prepare a grill for repainting and should not be used on stainless steel grills or surfaces. For stainless steel grills, we recommend using MHP Stainless Steel Grill Cleaner | (SCC).
INSTRUCTIONS:
Before applying Degreaser Solvent to your gas, electric or charcoal grill, make sure unit is turned off and at ambient temperature.
Wear rubber gloves and use in a well-ventilated area.
Clean the grill dry using steel wool or wire brush. Apply Degreaser and allow to soak for 15 minutes. Use a wire brush or abrasive pad on heavy grease accumulations.
Flush with water and wipe with a wet rag or paper towel.
A second application may be necessary for heavily greased areas.
Allow to dry completely before painting.
Use MHP Hi-Temp Black (BF1) Paint to finish your BBQ.
NEED HELP WITH THIS GRILL DEGREASER SPRAY?
EMAIL:
We'll get back to you same or next business day.