Why isn't my grill getting as hot as it used to get?
This is one of our most frequently asked questions.
For starters – is there gas in your tank? Check that first. 🙂
Once you know you're cooking with gas, if you use propane (aka LP), the answer is almost always one of the easiest and cheapest things to fix : your gas regulator. Regulators go bad over time, slowly shutting down the amount of gas getting to your grill. That's why it might not seem like something "broke" all the sudden, but there's still an issue with the heat in your grill.
Gas grill liquid propane regulators (they fit on those 20lb tanks you buy/trade at grocery stores or gas stations) are a standard part. That means, in almost every case, you can use the regulator we sell for the grill you have. (If you're not sure, give us a call)
Here's the standard one-hose-fits-most grills regulator: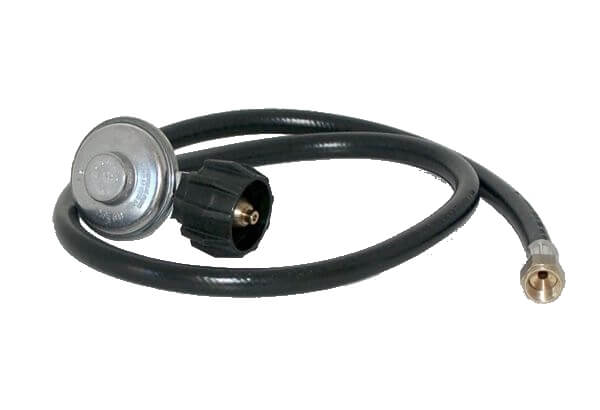 Does your grill have two hoses? or a place the the hose goes into a Y shape? We have that too!
How about a really big grill with 4 or more burners?
Or a grill that needs an extra long hose to reach to where the tank sits?
When you order this part and it arrives, you can simply unscrew the old regulator from your tank and your grill. Then screw on the new regulator to your grill and your tank.
See? I told you it was easy to fix.
Why not just go get a new one at a big box store? Well, not all parts are created equal, and we strive to supply the best quality available. We stock regulators in high quantities, so they should always be ready to ship out as soon as you place your order. If they aren't, you'll see that listed directly on the website.
We'll save you a trip now by sending this part directly to your front door, and a trip in a year, because our parts outlast the generic ones sold at big box stores. (More questions about regulators? Read this post)
Still having issues with the heat in your grill? Check out this page for valve information.
It might be your grill burner.
And as always, if you have ANY questions give us a call! We specialize in Great Customer Service! 877-244-0737
-GG